Consultation - Design - Pre approvals - Production - Support - Ecxlusivity
Hydrographics Custom Film Development 
At Hydro Concepts Australia, with the assistance of our special Graphics Designers department we have the capabilities to develop your unique hydrographic film with your specific requirements. We can work with your existing art and modify it based on custom art on your behalf.
Our team will deliver samples of the design prior going to production for your approvals if requested.

How does it work?
Contact via email or phone our support line with your request, our team will guide you to with our requirements for the design format requirements we need to start your project.
Our team provides a designer for your business to assist with the design or we can do it in house for you
What happens next?
During the production of your design we must determine and check the number of colours included in the pattern. Every colour requires its own special cylinder to be produced with the artwork. Normally 4 colours is what we need to produce a multicolour design.
Once the design has been evaluated, our team will work with you directly with all the important details about duration and estimated cost to develop the film including production timelines.
Our production cylinders are of the highest quality  fabrication and they are capable of printing thousands of meters of film in 50, 100cm or under a special request available in 130cm widths.

DIGITAL PRINTING
Our team has developed as world first developed in Australia for small production runs of Hydrographics printing requirements on the original  quality hydrographics OEM media  which can accommodate volumes  starting from 1 meter  lengths production in 50cm or 100cm width media.
The inks used during the digital printing are highest quality specially formulated for our process with 100% UV protection and  can retain their colour integrity unsealed for up to 3 years.
Approximate cost (Offset Web hydrographics Printing) above 250 meters production
The average charge per colour and production cylinder is around $700.00 with the media PVA film as additional charges depending the choice of the width.
Approximate cost (Digital Hydrographics Printing) below 100 meters production
The average cost for Digital printing can start as low as $50 dollars per meters including media supply.
Manufacturing and design time for volume above 250 meters
Once we get the approval from you, it takes us about 2-6 weeks to develop the product in its final Water Transfer Printing film.
Manufacturing and design time for volume below 100 meters
This option is given to customers who like to run their production from our digital local production plan  with a faster turnaround time starting from 24 hours to 1 week depending on the design requirements.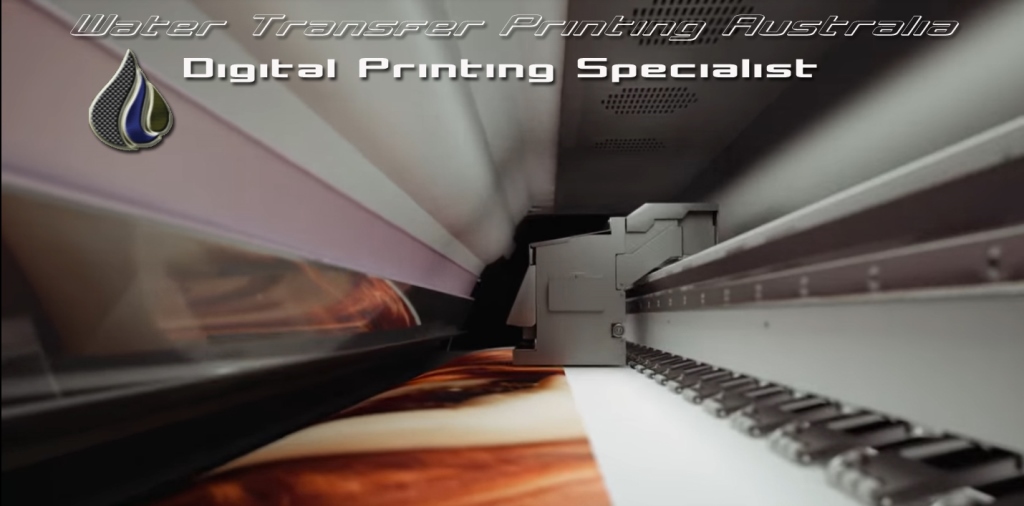 ARTWORK Copyright Protected
We take client confidentiality very seriously at Hydro Concepts Australia where all artwork is developed with the utmost privacy. Our Clients receive the copyrights of the film developed with us, while the Gravure plate cylinders used for the project remain the property of Hydro Concepts Australia. (Conditions Apply).
Production Locations
Our factory for large production offset Printers are located in Asia with capabilities of thousands meters printing per day. Location of small volume printing is also available in our Head office in Melbourne Australia for those customer require special runs and proofing of their designs. Contact our office today to discuss your project requirements.
Call us today to discuss your project in confidence